Whether your dancing needs call for a fabulous competition shoe, a gorgeous night out-on-the-town shoe, or a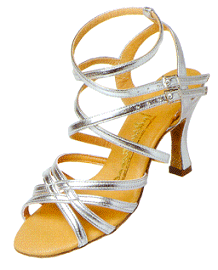 comfortable practice shoe to hone those dancing skills...
Strictly Ballroom Dance Apparel and Ballroom Dance Shoes has what you are looking for today!
Browse through our enormous selection with easy to view pictures and pull-down menus to customize your shoes to fit like they were made-to-order.
We carry Women's, Men's, Girl's and Boy's shoes for Latin, Standard/Smooth and Practice ballroom dancing.
Please choose your size wisely, there is a $20 restocking charge for returned items.
Call us at 949.442.7600 if you have any further questions.
Buy today to dance tomorrow... in foot friendly shoes with eye catching appeal!